Here is some of the work in progress for the "Project X" post on my page.  Since this was an art test there was plenty back and forth before choosing the final key frame.  Allot of this work here is pretty sketchy  warts and all.  Not really stuff I would post on my main page.
To start things off I decided to do a series of thumbnails to figure out a story or generate ideas before getting carried away in 3D. I can then show these to the Art director to get an idea of what He or she likes before committing myself to more time consuming work.
The general idea I came up with is  our girl character and her robot companion scavenging the coastlines of some shipwreaked wasteland when they stumble upon a mysterious giant spaceship crashed into the side of a mountain.   Deep down in its depths they find a standing army of droids of a mysterious origin.  I had an image in my head of that Terracotta army they found in China only with droids .  Anyhow it's something to get started with and build on.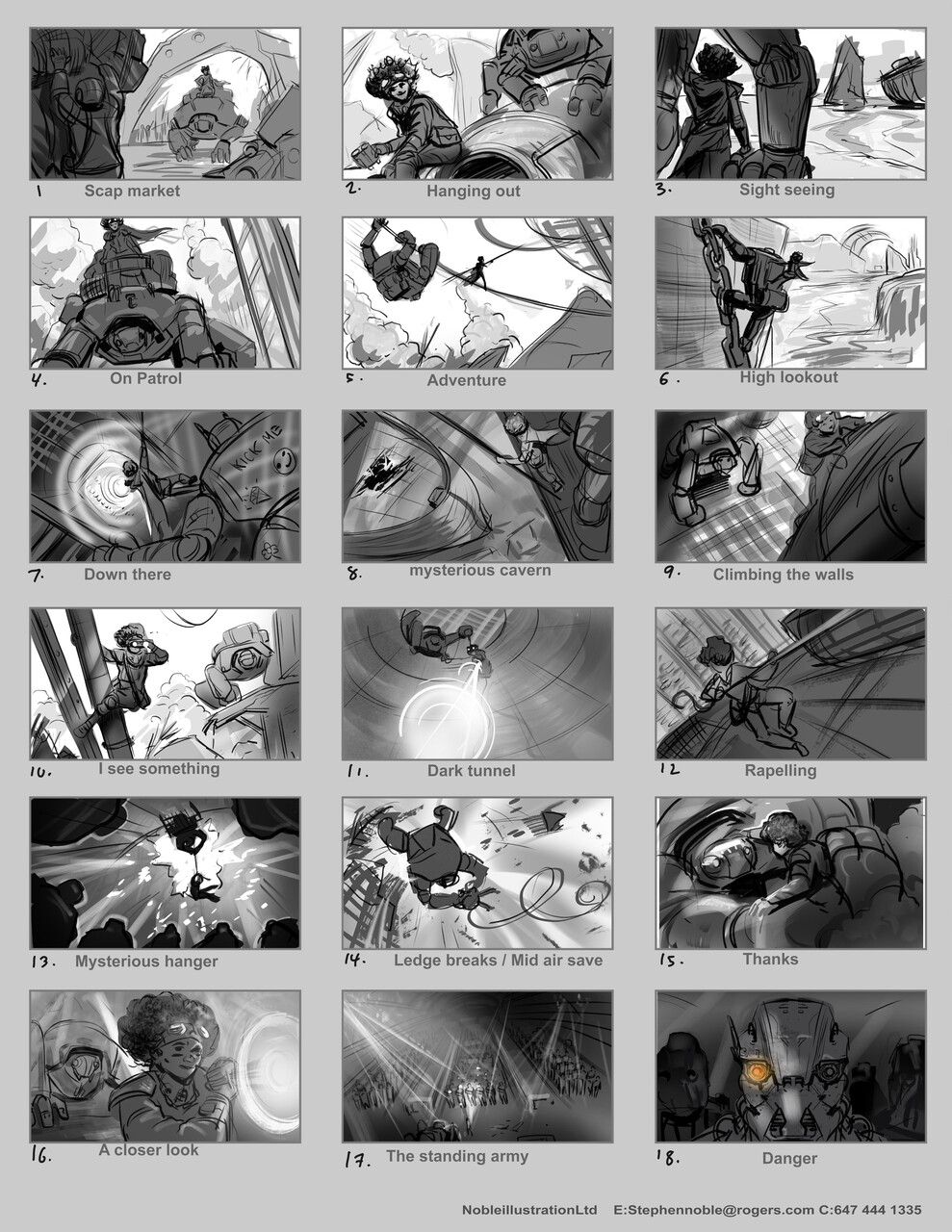 Early Key frames
After showing these thumbnails we chose 4 ideas to explore further. I then decided to block theme out in VR using Gravity sketch then import them into Blender then Photoshop. The first one would go on to be used as the basis for the final keyframe with lots of feedback and tweaks along the way.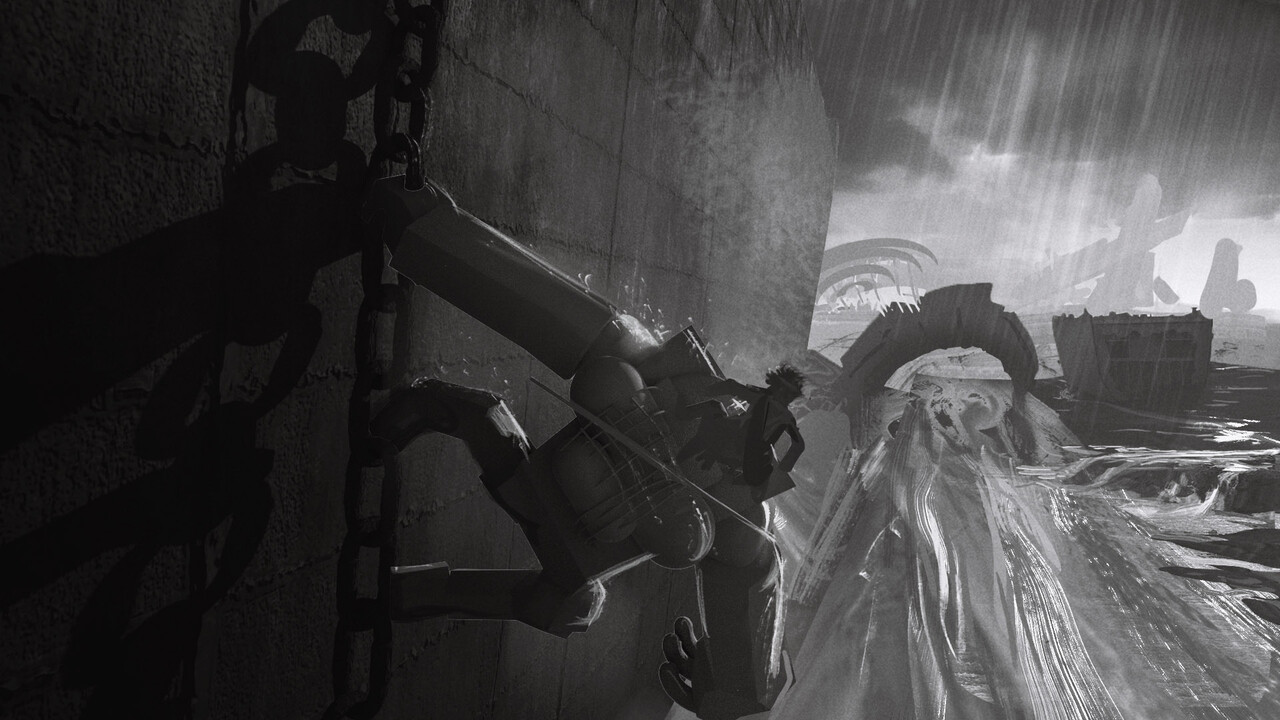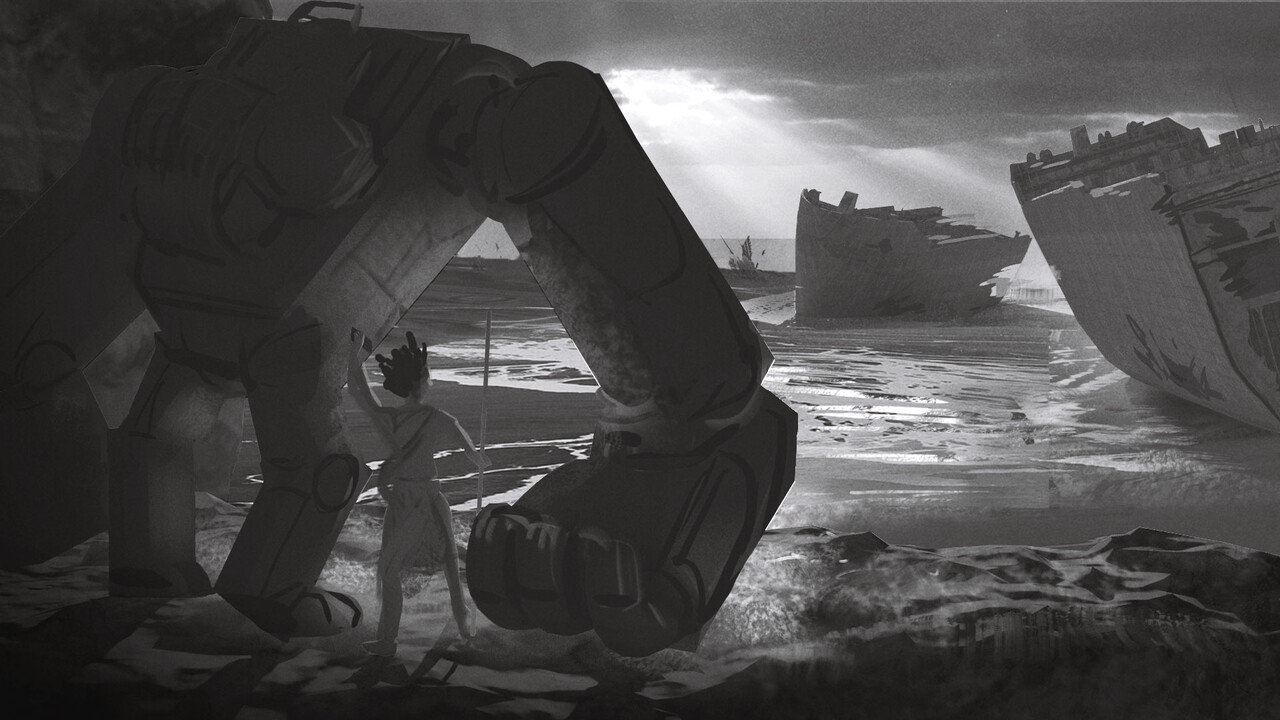 Character Concept:
After some feedback I did a few more quick and dirty sketches to revise the first concept that we would move forward with.  
Robot:
Before moving on to the tighter artwork I did a detour to explore what the characters might look like.
I started with some sketches on the iPad of The big Robot guy first. Some ideas to present to the Art director.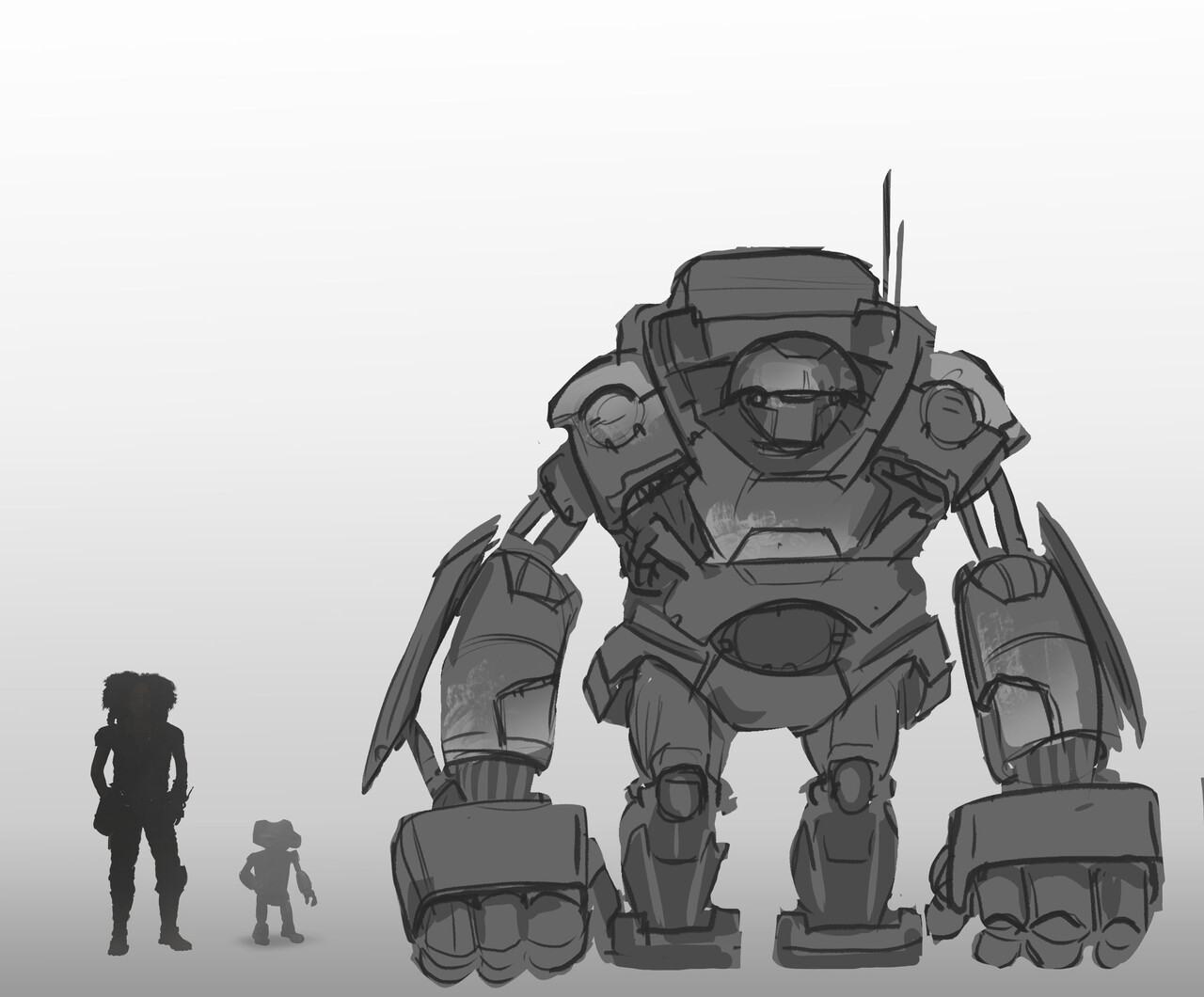 Early on I pictured the Bot as more ape like and very large.  I also had ideas for a smaller robot guy as well who could maybe pilot the big dude.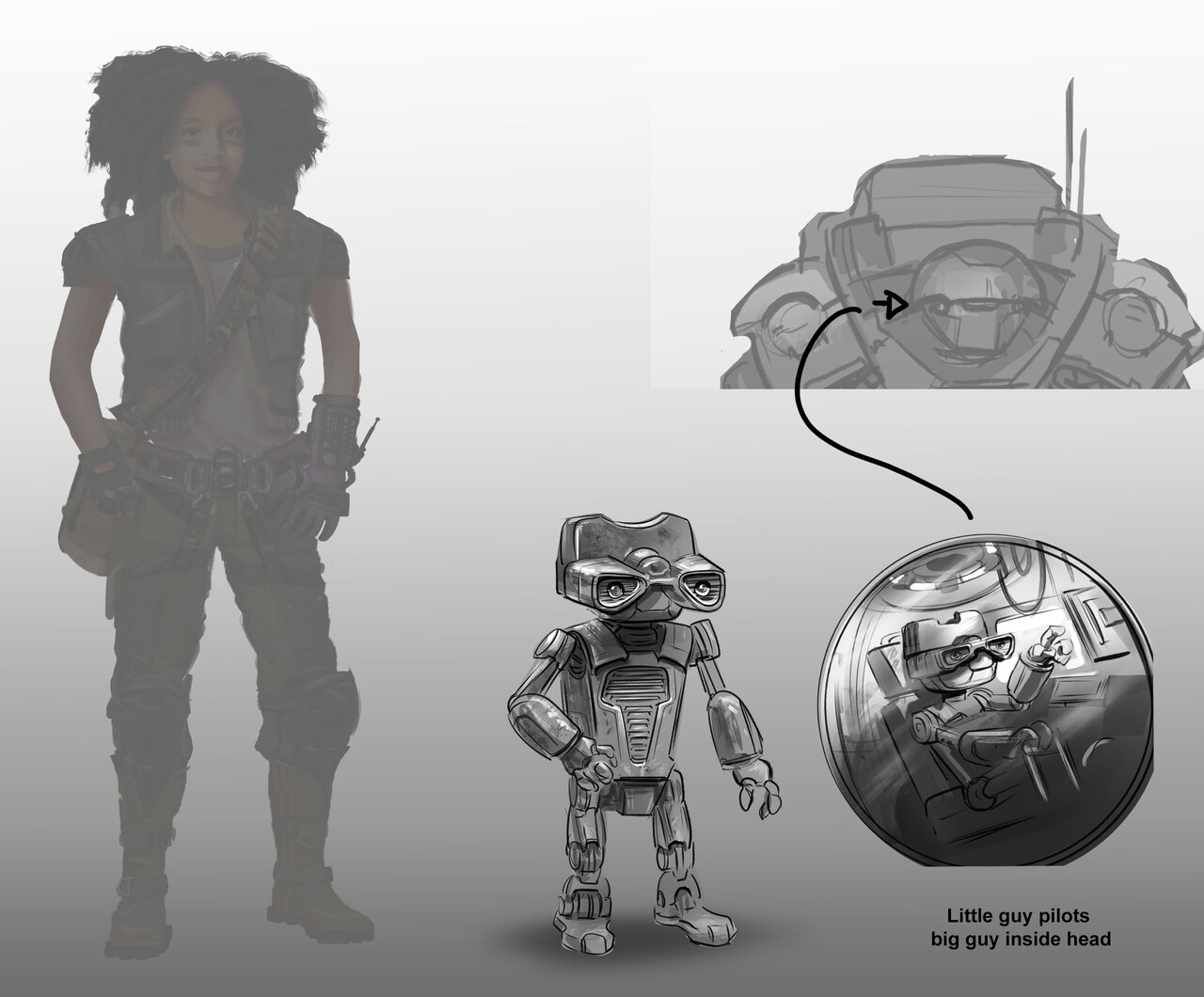 3D Work:
For the more realistic style of key frames we were aiming for I decided I would model the Bot in 3D and use that in the final concept art.
Here are 2 versions. An earlier block out version that was more cartoony  like the early sketches and the final version that is more normal proportions and addressed some of the feedback given along the way.  
Here is the final Decimated ZBrush model in Blender. For Scale I added the girl in and  to save time I just modified a model of Ellie from last of Us as a temporary solution since this is just an art test and not being used in a production.  Just quick and dirty I think it gets the job done for now.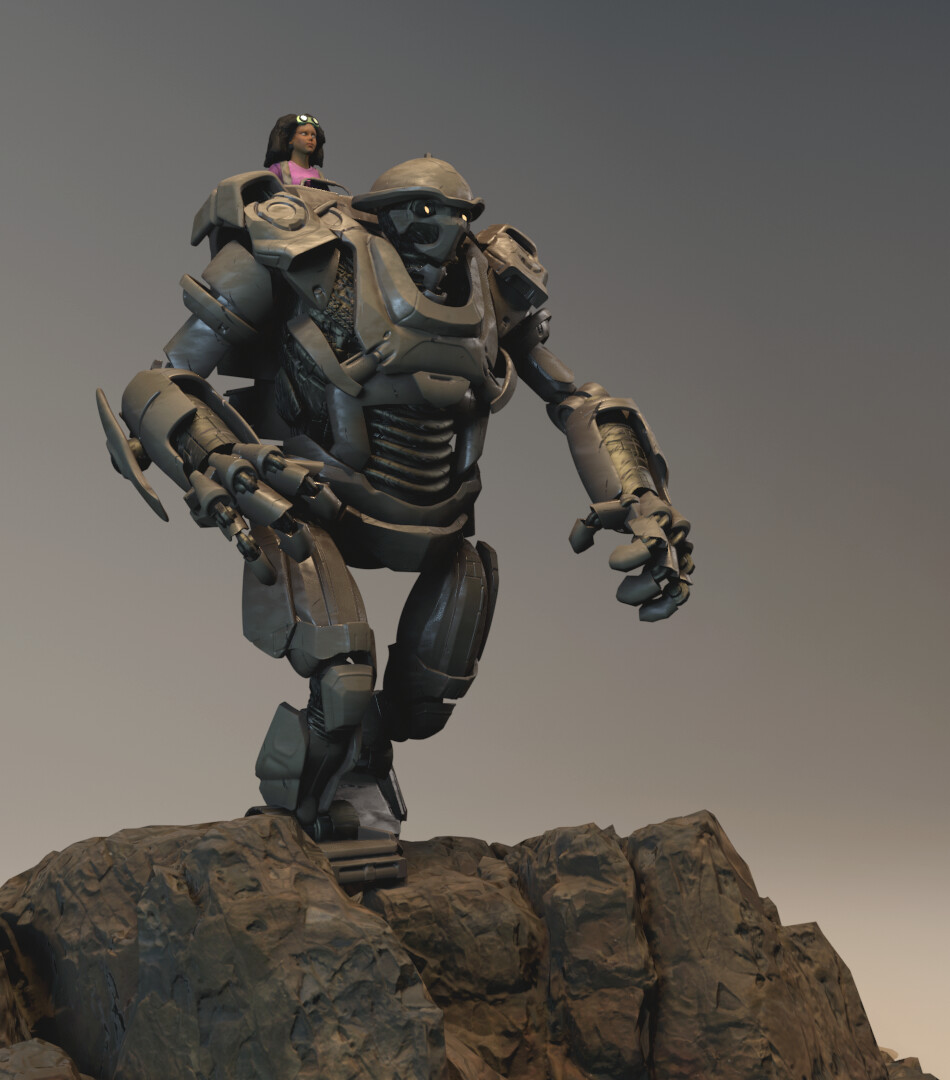 Here is a final concept for the the Girl and Bot. I decided to do an option where the Bot is covered in Graffiti and stickers and even added a bit of nail polish.  Just a fun way to add more to the idea and hint at a connection between the two characters.  I thought of how as children we Decorated our bedrooms as a way to express ourselves.  Her big robot dude is her canvas or creative outlet perhaps.  
The Girl:
Here are the first sketches I did to see where we could take her design.  Again just sketches nothing fancy.
The Middle one got approved so I made a color version and also proposed a smaller Robot guy who could maybe drive the larger Robot. The little guy got canned so he never made it past lines and Back and white sketch. Just here for scale.  This is as far as we need to go for the sake of Key frame art.  
Final Keyframe:
Time to get going on the final key frame. I jumped into Blender to make a 3D base for the final shot.
Nothing to complicated since It will mostly be replaced with photos and paint over.  I really wanted to go detail crazy on this and add all kinds of rocks and trees.  So easy to spend way to much time at this stage.
I posed the 3D characters in ZBrush then decimated them and brought it all together in Blender and rendered it out with passes in Octane.
Following some feedback the final image came together and we called it a day for this art test.
I also did a few more key frames later base on other ideas which I posted on my Artstation page  so do check those out as well if you haven`t already.  
https://www.artstation.com/artwork/1836Oe
Hope you enjoyed this post and found it interesting.
All the best!